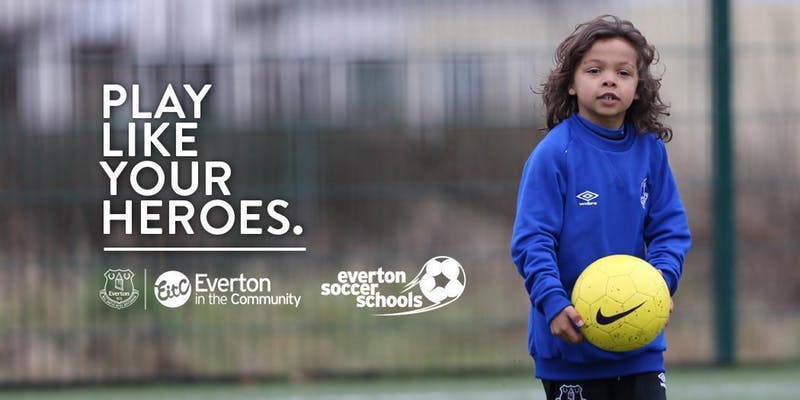 Everton Soccer School
https://www.eventbrite.co.uk/e/everton-soccer-school-in-partnership-with-the-james-greenop-foundation-tornado-prescot-soccer-centre-tickets-62199859454
Description
For the best time with a football outside of Goodison Park, why not sign your child up to take part in Everton in the Community's Soccer School? Run by trained coaches from the Club, the Soccer Schools offer young people the chance to develop their skills and learn new techniques in a safe, fun environment. Children will be taught skills and techniques that have kept Premier League stars such as Richarlison, Michael Keane and Lucas Digne at the top of their game. Mike Salla, Everton in the Community's Soccer School manager, said: "A typical day at a camp includes a proper 'footballer's style' warm-up, skill sessions, penalty competitions, small-sided games, and water breaks of course! "The last hour of each day consists of a tournament for the youngsters to show off their newly learned skills. Every day is carefully structured to give the children the opportunity to learn new techniques, to enjoy their football and meet new friends." The Soccer Schools take part throughout Merseyside and North Wales. Talent spotting
Through Everton Soccer Schools, a small number of children are identified each year as either significantly improving over the course of the camp, or arrive on the first day with that extra talent already in place. The Community coaches then recommend these gifted youngsters to Everton's Youth Academy for trials and potentially a place in one of our Academy teams. Please note: Taking part in one of the Soccer Schools does not guarantee recommendation to Everton's Youth Academy.
If you are a 2018/19 Official Member, Season Ticket Holder or Hospitality Member please book your place by calling 0151 530 5232 and quote your customer number to receive a 10% discount.
Day 1 will consist of coaching sessions delivered by the EitC coaches.
Day 2 will be a tournament & games day. The players will be split into teams of 3 and will compete against other teams from their group, whilst this is happening some groups will take part in games and competitions to test all the skills they have learnt from day 1.
FAQs
What age is the camp open too? – 4 – 14
What time does it start & Finish? – 10am – 3pm
Can parents stay and watch? – Yes
Do children need to bring their own lunch? – Yes
You only purchase one ticket (£35) which will cover both days on the camp